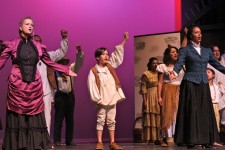 Native American Rock Opera sheds light on resilience of their grandmothers and how Doctrine of Discovery brought death and destruction.
Auburn, CA, October 5, 2016 (Newswire.com) - ​​​​​Some folks may say Halloween is the scariest holiday of the year. After all, what's more frightening than little children dressing up like superheros and princesses, going door to door in their neighborhood receiving delightful treats? Halloween's remembrance of the dead and possible Pagan roots has garnered its own cult of criticisms, but one has to wonder out of all the Holiday's of the year, which one's are actually.... SCARY? "Something Inside Is Broken" an original Native American Rock Opera has something to say about Columbus Day, or rather... the colonization of land inhabited with Indigenous peoples. A holiday based around celebrating the "Discovery" of a New World, and celebrates the man who piloted the Transatlantic Slave Trade questions our American Values. To Indigenous people, Columbus didn't discover a new world. Indigenous People lived here in the America's, for centuries. And for the people who lived here, Colonization and the minds that orchestrated the "Doctrine of Discovery" led to the extermination, enslavement, and destruction of their people.
"Something Inside is Broken" is a rock opera that sheds an unflattering light on so called "Discoverer's" and "Explorers." The story takes place in Placer County, CA during John Sutter's reign on the Sacramento Valley during the pre-gold rush period. John Sutter is a celebrated Sacramento historical icon whose name is plastered on street signs, medical offices, and tourism vistas. But the play paints a very different picture of John Sutter. "This is HER-Story" according to play creator Alan Wallace, who started the project as a Nisenan language preservation project. There are 26 songs and arrangements, and over half of them are sung in Nisenan. The story revolves around a true historical account about a woman who was a slave to John Sutter - the man who built "The Gateway to the West." Wallace said he didn't create the project as some big guilt trip. He is a descendant of these survivors and wants to help tell the story. "It's personal, but not in a sense of a grudge or vendetta," he said.
The rush for gold came at a considerable cost. People died, people were enslaved, and exterminated. Those were our ancestors.

Jack Kohler, Playwright, Hoopa Valley Tribe
It started as a community theater production, but after being a sold out hit, the show was funded for a West Coast 3 state tour by the Rincon and Tuolumne Tribes. "We have goals of bringing this to the Smithsonian, maybe even Broadway," Wallace has said. "We need to be sure a residue of the Nisenan tongue remains an imprint on the American soil. This Nisenan perspective has never been heard before and seven generations later this musical is getting people excited about culture. "It's a way to say who we are. I'm just trying to do something good."
The Rock Opera bridges genres (rock/hip hop) as well as generations across time, moving through 4 different time periods - The Beginning of the World, A courtroom scene in the late 1800s, The pre-gold rush era (1842), and a reality show called "Frontier Idol". The Beginning of the World sequence shows simplicity, love, family, community, and abundance, whereas the other time sequences show a significant shift in attitudes, values, and an unstoppable hunger for greed and gold. "Something Inside is Broken" Playwright Jack Kohler of the Hoopa Valley Tribe says, "The rush for gold came at a considerable cost. People died, people were enslaved, and exterminated. Those were our ancestors."
One has to wonder if the slogan "Make American Great Again" has the same connotations as the Doctrine of Discovery, and Manifest Destiny. It's that slogan that raises some eyebrows within this particular artistic community. An eye single to glory, never seems to turn out so well - at least that's one of the messages of the play. "Greed, an urge we gotta heed, or we wouldn't carelessly take all the things we think we need" from the song "Wretched Little Things", sung by Universal signed leading lady/female rapper J Ross Parelli.
The play is part of a movement that revitalizes Indigenous people, language, and culture. Many who are not familiar with the cultural genocide that plagues Indigenous populations are questioning the play's motives. Why drudge up the past? A fb post on a cast member's timeline read "Apologies have been made. They got reservations." There have also been hold ups on sponsorships from other Tribes, because it's against their policy to sponsor "cultural" projects that preserve traditions that could be considered "demonic" or "pagan".
Overall, the play has received an outpouring of support, thousands of dollars raised by community members, tribal members, and major movers and shakers, such as Tribal Chairman of Rincon Band - Bo Mazetti, who has been the biggest backer and sponsor of the play. "Our audiences have been extremely generous and accepting of the play's message. It's an incredible thing to have someone come up to you with tears in their eyes and thank you for helping their voice be heard," says Elle Beyer (producer/choreographer/cast member).
An audience member at a recent show, an immigrant from Uganda, thanked a cast member for their work in the play. "This very thing happened to my village. It made me sad to see this. It's still happening." The play is speaking a universal language, and rings true for millions of Indigenous people all around the world, trying to preserve their culture, their way of life, and prevent the 2nd stage of genocide (Assimilation). "It's more about bridging communities and cultures and creating an important dialogue. Our hope is that when people see the play, they'll experience it from a human level. It's that part of us that's broken, but it's also the part of us that has the potential to heal, move forward, and create something new and wonderful," says Beyer.
Dates and locations for the "Something Inside Is Broken" tour:
October 6th 2016 - Grand Sierra Theater - Reno, NV
October 10th & 11th 2016 - Hergerber Theater - Phoenix, AZ
October 14th 2016 - Center for the Arts Escondido, CA
Tickets can be purchased at www.somethinginsideisbroken.com
Source: On Native Ground
Share: