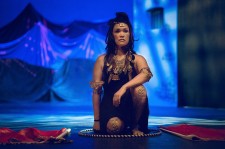 News
•
updated: Sep 29, 2016
"Something Inside Is Broken" portrays the Swiss-German immigrant - who started the New Helvetia settlement that became Sacramento.
How do you tell the story about the shattering of a people? With truth, honor, music, and a little comic relief.
"Something Inside is Broken" tells the story of the Nisenan tribe of Northern California during John Sutter's reign in the Sacramento Valley. The musical recounts the events from 1846 through the California Gold Rush.
It has been described as a historical, groundbreaking, visionary event.

It is presented in the Nisenan language and in English, as well as through music and some hip hop.
"We're retelling the history that was left out of the school history books," said Jack Kohler of On Native Ground, a media, film and public relations company, and co-creator of the show. "We knew that music was the way to tell the story."

Kohler, who is from the Hoopa tribe, also wrote some of the songs and is directing the show.
"This is not the vision of Sutter that was taught to us in the school, but one that the natives had to endure and survive," he said.
Share: